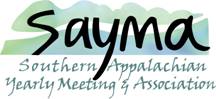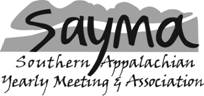 SAYMA Letterhead and Logo Instructions
The SAYMA logo is available in several formats. If you are in a SAYMA position of responsibility and have a use for the logo, please contact me and I will send you as many formats as you want as e-mail attachments. I will also be glad to print letterhead as needed. You can reach me at:
Carol Lamm
859 986-9256
110 Hanson Street, Berea, KY 40403
Letterhead
The logo is available in two letterhead versions: a general letterhead and a customizable version. The logo is centered at the top of the page. Contact information appears along the bottom of the page. You need to print the letterhead and then put it through your printer a second time to print the document you have composed; you can't just type onto the letterhead on your screen.
If you don't have a color printer, I will be glad to print and mail you as many sheets as you need.
1. saymaletterheadgeneral.pdf. This is general letterhead with the address and phone number of the SAYMA office. It also includes SAYMA's generic e-mail address, AdminAsst@sayma.org.
2. saymaletterheadindividuals.pdf. This version includes the same information as the general letterhead (above), but it is designed to be customized in addition with the name, phone number and e-mail address of the sender. To customize it, you need to have Adobe Acrobat Professional version 7.0 or higher, which is not free.
I will be glad to customize this version for any person in a SAYMA position of responsibility. Just let me know the necessary information.
If you have access to Adobe Acrobat Professional version 7.0 or higher, you can customize the letterhead yourself by selecting Advanced Editing, Touch-Up Text Tool. Put the cursor where you want it and edit the addresss.
Logo
The logo by itself is available in several versions. Each version is available in color and in black-and-white. You can use these versions on flyers, programs and other printed materials. You can make the logo bigger and smaller, but you should keep the aspect ratio (height/width) the same (by dragging on the corner of the image, for example).
If you have any experience with computer graphics, I think you will find these images easy to use. Usually, you can double-click on the file (or otherwise tell your computer to open it), and the computer will open the file in the appropriate application. But if you have never worked with graphic images on a computer, I'd suggest getting a friend to help you the first time.
To download a logo file on this page, right-click on the link and choose "Save Target As..." from the context menu.
1. logoforprint.jpg and logoforprintb&w.jpg. The first version is in color, the second (the one with "b&w" in the name) is black and white. You can open this with any photo viewer or Web browser (Mac: Preview, Windows: Photo Editor). Most computers have web browsers installed. You can also open these inside word processing or layout applications like MS Word or Publisher. This is the version to use for flyers, programs etc.
2. logoforweb.jpg and logoforwebb&w.jpg. These files are suitable for use on web pages. They could be used for print purposes but would not print as high-quality an image as the logoforprint files above.
3. logoforpress.tif and logoforpressb&w.tif. These images are of higher quality and take up a lot more disk space. TIFF is the leading commercial and professional image standard and is widely supported format across all platforms – Mac, Windows, Unix – but usually only more advanced imaging software will read these files.
4. logoforwebreversed.jpg. This version is the one to use if you need the logo reversed, for instance for a T-shirt transfer. It opens with the same programs as the .jpg files in 1, above.
5. logoforprint.eps and logoforprintb&w.eps. These versions are for big signs, like banners and building signs. A sign maker will know what to do with them.